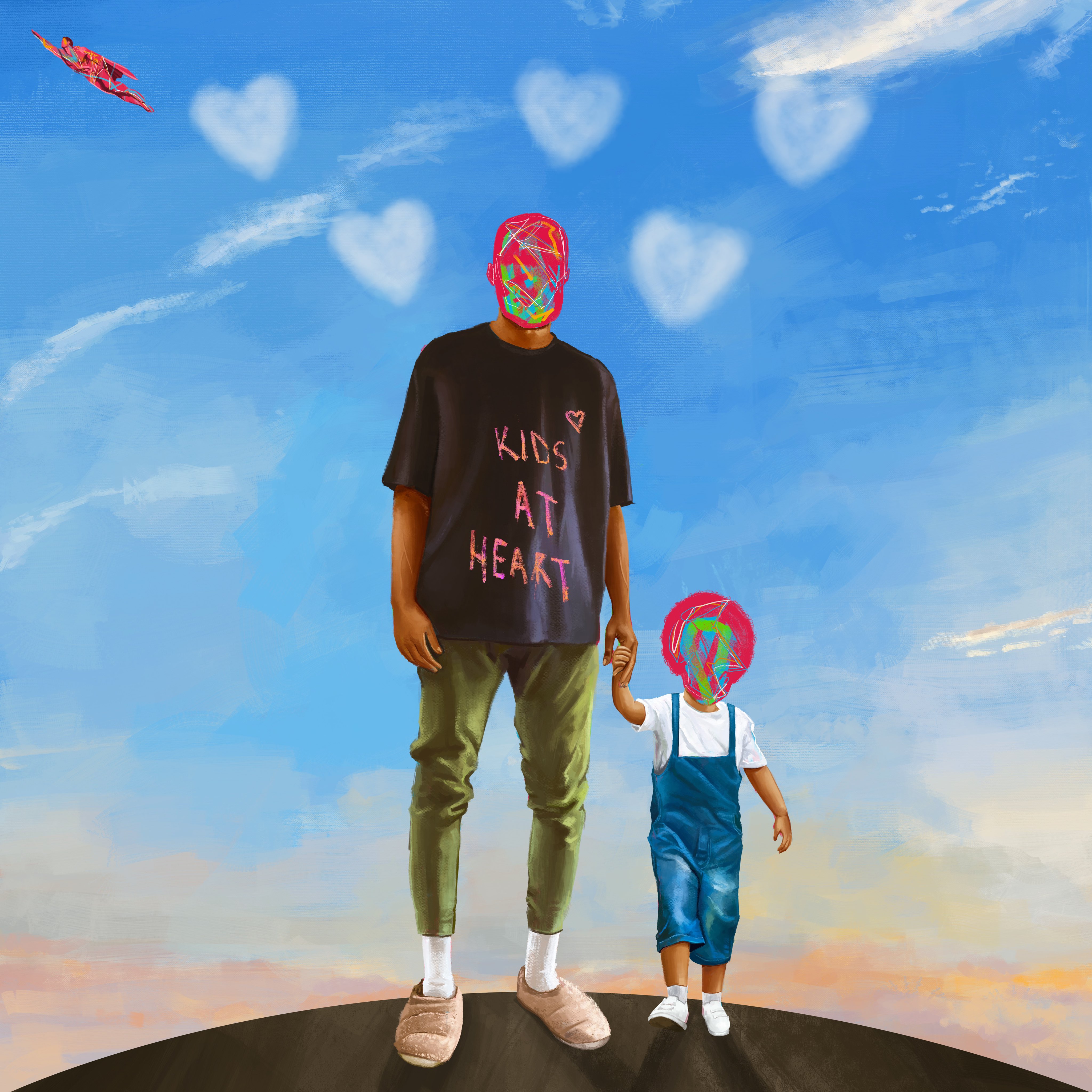 Man, look. I usually love kicking these reviews off with a brief intro but like the release of this project, my excitement is at an all-time high so let's just get right into the music! 
Mr. Cook Boy Cook teamed up with the J.U.S.T.I.C.E. League to create an exquisite EP that is only 5 tracks but is loaded with tons of flavor. In 15 minutes of play time, we get Nate in rare form as he showcases his authentic self as well as flaunting that versatility that I've raved about in previous Nate coverage on the blog and twitter.
Oh, and before we dive into this EP, Good Day/ Top Of The Morning/SHOUT OUT to the J.U.S.T.I.C.E. League! The legendary group of producers teaming up with Nate is such a big deal to me as a super fan of both parties. As expected, Nate stepped into the spotlight and went LEGEND.
'KIDS AT HEART' opens with "GIFT FROM GOD" a song where Nate raps from the soul as he states he's here to tell his story and no one can tell it like he can! I also loved the very catchy hook from PHE.
"GIFT FROM GOD" then feeds into the track I didn't know I needed, in "CALL ME WHEN YOU NEED ME". Man look, let me find out Nate got these melodies on deck! I may need another EP of records just like this ASAP. This track is so so so SMOOTH. Once that boy from the 6 catches wind of this, I bet he'll be in Nate's DMs to get on a remix. Just watch.
"DAY & AGE" and the final two cuts, "GUILT" and "RIGHT DIRECTION", all show in a extensive fashion what makes Nate special. His cadence coupled with his high confidence & poetic delivery separates him from his peers. This isn't nothing new to many listeners familiar with Nate as it was often shown to us in every Cook Boy Cook freestyle. But also… the BARS SIMPLY HIT DIFFERENT with Nate. 
Nate's performance and the extremely solid production job from the legendary J.U.S.T.I.C.E. League creates a special moment with this EP release. I do wish this was a longer EP but, I understand the short EP move. There's absolutely so much more to come, right Nate? RIGHT??
Nate continues to follow his blueprint and it has worked, it's still working and it will continue to work for him. Nate Joël has arrived and he absolutely delivered with 'KIDS AT HEART'. But let me be very clear though.  As someone who follows his journey very closely, Mr. Joël is definitely one to lookout for as he is just getting warmed up and he'll continue to make noise as we ride into 2022.
Thank you for tuning into my TED Talk. Stream 'KIDS AT HEART' below.
Favorite Tracks: CALL ME WHEN YOU NEED ME, DAY & AGE
GRADE: A